Описание
Dell Bluetooth Mouse - WM615
Только вместе с ноутбуком.
A high-performance mouse you can take anywhere
The Dell Bluetooth® Mouse-WM615 combines high-performance with an innovative design which lets you transform from comfort to ultra portability and increase your productivity in virtually any setting.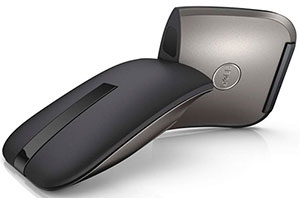 ---
Unique twisting design slips into your bag with ease
Easily shift from usage to portability by twisting the Dell Bluetooth® Mouse from the open shape that comfortably fits your hand when you're working, to the folded slim mode you can slide into your pocket.
---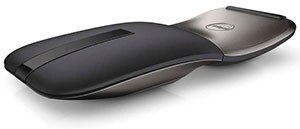 Precise and reliable performance
With a touch strip for precision scrolling, an infrared LED tracking sensor and smooth left and right click areas, the mouse puts accurate and reliable performance at your fingertips. Navigate quickly and work more productively with this high-performance and ultraportable mouse.
---
Increased productivity for your on-the-go lifestyle
Twist the Dell Bluetooth® Mouse into slim mode and take it with you to the office, your favorite coffee shop, home or on the road. Untwist the mouse and you'll be equipped to increase your work productivity wherever your on-the-go lifestyle takes you.
---
Connect wirelessly with ease
Advanced Leading Bluetooth® SMART technology allows you to quickly and easily pair the mouse with Bluetooth 4.0-enabled computers and get to work.
---
Compatible with popular operating systems equipped with Bluetooth 4.0
The Dell Bluetooth Mouse-WM615 is compatible with Windows® 8/8.1/10 using Bluetooth 4.0 radio.
---
For Windows® 7 PCs using Bluetooth 4.0 radio, it has been tested with select Dell PCs and wireless chipsets*. Please update your PC's Bluetooth drivers to the latest version before connecting the mouse.

Please note that systems using earlier versions of Bluetooth are not compatible.
---
Curved for your comfort
With your comfort in mind, the Dell WM615 mouse has a curved shape designed to fit well in the palm of your hand. The touch strip and left and right click areas are positioned within easy reach that makes them seamless to use.

What's in the box

Dell Bluetooth® Mouse-WM615
AAA Batteries
Documentation
This product is compatible with the following systems:
Inspiron One 20 (2020)
Latitude 6430u
Inspiron One 20 (2020) MLK
XPS One 27 (2720)
Latitude E7240
Latitude E7440
XPS 13 Classic
Vostro 5470
Venue 8 Pro (5830)
Venue 11 Pro (5130)
Precision M3800
Venue 11 Pro (7130)
Latitude 3340
Latitude Rugged Extreme 7404
XPS 18 (1820)
Inspiron 11 3000 Series (3147)
Venue 11 Pro (7139)
Latitude E5250
Latitude E5450
Latitude E5550
Latitude 7350
Venue 11 Pro (7140)
Alienware 13
Latitude 3450
Latitude E7250
Latitude E7450
Latitude 3550
XPS 13 (9343)
Inspiron 5448
Inspiron 7348
Inspiron 17 7000 Series (7746)
Venue 10 Pro (5055)
XPS 8900
Inspiron 17 5000 Series (5759)
Chromebook 13 7310
Latitude E5470
Latitude E5570
Latitude 3350
Latitude E5270
Latitude 7275
Latitude 7370
Inspiron 15 5000 Series (5567)
Inspiron 17 5000 Series (5767)
Inspiron 15 5000 Series (5565)
Inspiron 11 3000 Series (3179)
Latitude 5280
Latitude 5480
Latitude 5580
XPS 9365 2-in-1
Latitude 7280
Latitude 7480
Latitude 5285 2-in-1
Latitude 5289 2-in-1
Inspiron 13 7000 Series (7375)